CRCC drop-in center offers trafficking survivors safe, quiet place
For survivors of human trafficking, the need for community support and simple respite from their ongoing trauma is both urgent and virtually unlimited.
After more than a year of planning and overseeing the build-out of a former KeyBank branch at 10450 Superior Ave. on the southwest corner of East 105th Street in Glenville, Cleveland Rape Crisis Center (CRCC) opened the Human Trafficking Drop-in Center on April 1, the first day of Sexual Assault Awareness Month.
CRCC designed a warm, colorful, non-institutional space for survivors of sex trafficking who have endured a difficult, abusive life under the control of a pimp. One of the first survivors to enter the new 4,715-square-foot center confirmed CRCC's goals when she exclaimed, "This feels like home!"
Northeast Ohio had long needed this facility because it has a large number of sex trafficking survivors, many of whom are CRCC clients. According to the Polaris Project and others who track trafficking statistics, Ohio has ranked as high as fifth in the nation among all states in total reported human trafficking cases.
Since founding its human trafficking services four years ago, CRCC has answered more than 700 calls on its Human Trafficking Hotline (855-431-7827) and provided crisis intervention counseling and justice system advocacy to more than 1,200 people.
"We want people to know that this is a safe, welcoming space for them to come regardless of whether they are at the beginning part of leaving trafficking or they have already exited and need the extra support," said Teresa Stafford, chief program officer for CRCC. "They can come here no matter where they are in their healing process, and they can keep coming back anytime."
The drop-in center's opening is supported by a mix of private and public funding, including a $100,000 grant from the Billie Howland Steffee Family Fund of the Cleveland Foundation to continue the late Mrs. Steffee's legacy of being a fierce advocate for human trafficking survivors. CRCC will also receive $630,000 over three years from the U.S. Department of Justice Office of Victims of Crime. As a condition of the OVC grant, CRCC is required to raise an additional 25%, or $160,000, from other sources as a "cash match" to support the project.
Aware of the need to find additional, ongoing funding, Ward 10 City Councilman Kevin Conwell and his wife Yvonne, Cuyahoga County Councilwoman for District 7, have scheduled a luncheon with stakeholders at the center on Friday, April 16 to assist the CRCC's fundraising efforts.
"We are very excited to have this center as a safety net for our community," Kevin said. "Yvonne and I plan to support them by addressing whatever resources the center needs."
Last December, Cuyahoga County awarded CRCC a $300,000 grant using federal CARES Act funding. The grant was allocated to expenses and revenue loss directly attributed to the Covid-19 pandemic.
CRCC found the busy and burgeoning 105th Street corridor location ideal because it offers guests easy access to routes on two major GCRTA bus lines and is close to University Circle and several community partners who are directly involved at the drop-in facility, including the Cleveland Clinic Foundation and University Hospitals and Rainbow Babies and Children's Hospital.
Customized programming components
Although CRCC has created an extensive class list and programming that will be available and has therapists and counselors there every day, the ultimate attraction of the drop-in center is that survivors have the freedom to relax in a safe, peaceful place.
"Sometimes when survivors get social services, there are all of these stipulations put on them: 'You must attend seven sessions of this workshop,'" Stafford said. "Here, they can come in and talk with a counselor or access a variety of services or classes, if they like, or they can just sit on the couch, have coffee, eat popcorn and watch TV."
The center will offer classes on a variety of topics, including addiction, coping with trauma, financial literacy, healthy relationships, job readiness, wholeness and self-esteem. There will also be social groups for Black women and survivors who identify with the LGBTQIA community.
Additionally, students from nearby Case Western Reserve University School of Law and members of Equity, Ohio will visit regularly to provide legal advice and programming related to obtaining expungement of their legal records – which can prevent survivors from getting jobs, renting or leasing houses and purchasing homes or cars – how to pull a credit report and other legal questions.
Providence House will furnish programming for parents, and RAHAB Ministries from Akron will provide mentoring services for minors who have been trafficked through the county Safe Harbor Docket.
Special interior design features
The center offers comfortable, open-seating areas and a wide range of activities for survivors and their children, if they have them, including board and card games, jigsaw puzzles, coloring books and a corner seating section around a TV with Netflix. There are sizable restrooms and two shower rooms, as well as a laundry room with a washer and dryer.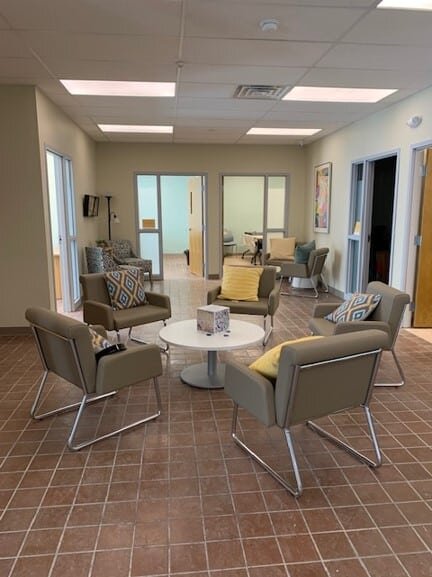 The café is stocked with coffee, tea, hot chocolate and a variety of snacks. A supply store enables survivors to select free clothing, personal hygiene products, cosmetics and other items, with cloth shopping bags for them to use when they shop. CRCC keeps the inventory and other supplies in the former, centrally positioned bank vault, which offers an eye-catching conversation starter, too.
Along with flexible seating group rooms for workshops, yoga or fitness classes or meetings, there are a couple private offices that double as rooms for therapy or counseling sessions. Known as the "quiet room" where survivors can find a peaceful spot to "reset," the room is equipped with controllable lighting that can be dimmed as well as a camera so members of the Cuyahoga Regional Human Trafficking Task Force can perform forensic interviews in a soft space to make it more comfortable for the survivors.
"We have the ability to provide a trauma-informed space where individuals can be interviewed and have the support of our advocates here," said Keyna Smith, director of anti-human trafficking and advocacy for CRCC. "We do not want to disrupt our other programming, so the detectives will enter through a separate door without sirens blazing or with uniformed officers because we want our other guests to relax and get away from the world for a while."
Why CRCC decided to open the drop-in facility
CRCC recognized the need for the drop-in center when they started to have trafficking survivor clients appear in the lobby at their main office in the Halle Building downtown. They didn't want to schedule any services or meet with their counselors or therapists. They simply wanted a safe place to recharge their phones, perhaps pick up some toiletries and be off the streets away from former pimps or drug dealers, for example.
"They were staying at the local shelters, and before the pandemic, they would have to leave in the morning to seek employment," Smith said. "Survivors are just extremely vulnerable to their perpetrator and to reliving their trauma constantly, so we wanted to find a way to support them where they needed it."
After identifying potential funding, Stafford and other key CRCC members visited the Pittsburgh Rape Crisis Center's human trafficking drop-in center in June 2019. Stafford then initiated an in-depth research effort, contacting similar centers throughout the U.S., inquiring about the challenges, benefits, types of programming they offered and what they would do differently. She and her team also spent time asking their trafficking survivor clients what they needed and what would help them most.
"As service providers we need to constantly challenge ourselves to determine what more we can do," said CRCC President and CEO Sondra Miller. "This is a different model for us, so we hope the [trafficking survivors] community will take advantage of it, and we fully expect they will teach us more about what we need to be doing."
Working with the Famicos Foundation Community Development Corporation in Hough and a real estate broker, they identified the abandoned bank building on Superior Road. CRCC signed the lease and the landlord began developing the space in August 2020. Originally they had hoped to open the drop-in center last December, but the pandemic caused some delays in the construction needed to convert the facility.
Choosing to empower, not order survivors
The primary model CRCC employs is working to empower the women and guide them to the point where they can control their lives again. Drop-in centers can serve as ideal transition places where the women get connected to other community services that may help them in the future. The drop-in center enables the survivors to get to know the people behind those programs personally.
"If we can build that relationship and that person can trust us, then maybe they'll trust us enough to talk about their trauma with a counselor," Stafford said. "Then maybe they will trust us to report to the criminal justice system, and we'll be there for them throughout the process. We want to empower them to work on the goals they have identified, not tell them what goals to pursue."
You can support the drop-in center by purchasing items for the supply room on the CRCC Anti-Human Trafficking Wish List on Amazon.